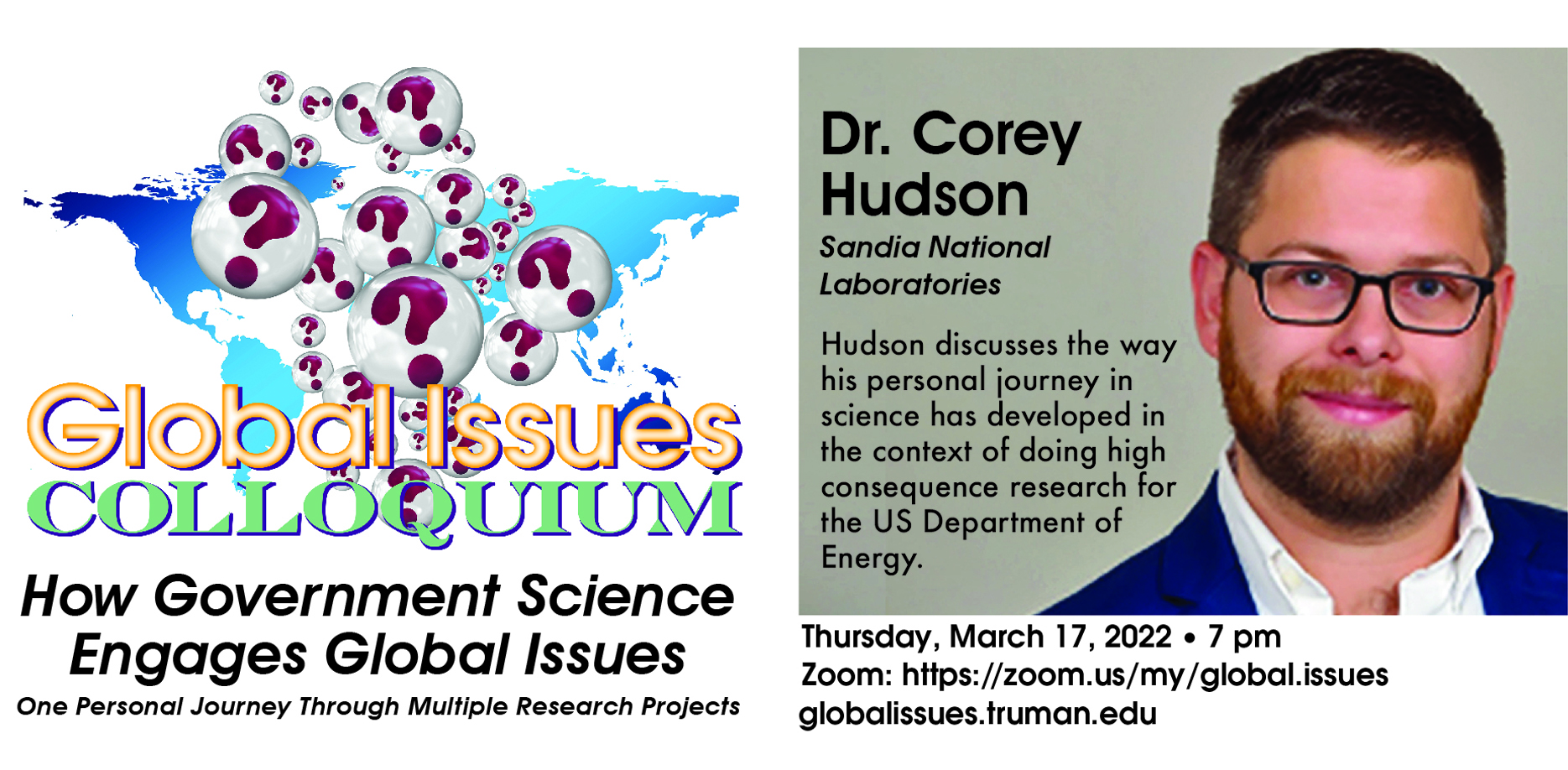 Thursday, March 17, over zoom at https://zoom.us/my/global.issues
Corey Hudson, Sandia National Laboratories
How Government Science Engages Global Issues – One personal journey through multiple research projects
Recording: https://truman-edu.zoom.us/rec/share/v7QDhg5hwjyiDdIiBTbCNwwvolMj661TUTT2Vq2_QcX3thtu2cye2BR6CzXSZ67J.FDfv5ThUzqQmQeCQ?startTime=1647561968000
Dr. Corey Hudson (Sandia National Laboratories) discusses the way his personal journey in science has developed in the context of doing high consequence research for the US Department of Energy. His work started as a postdoc involved in projects as disparate as identifying industrially relevant enzymes for biomanufacturing, sequencing and assembling the genomes of antibiotic resistant bacterial and studying their evolution, and building databases of mobile genetic elements. As a staff member he had the opportunity to serve as lab coordinator and government liaison for the Sierra Leone Ebola response effort, helped develop new software and algorithms for synthetic biology, and helped build a field called "Digital Biosecurity." Since becoming a manager, Dr. Hudson has built a research portfolio around modeling carbon capture by soils, protecting vaccine production facilities, and using high performance computing for antibody design. National laboratories are a unique place for researchers who are extremely curious and deeply interested in working in big problem areas. Because of the kind of work at national labs, projects are often in extremely high risk and high reward areas, and the work is like academics. In addition, researchers also get to transition technologies from a really early stage to active use, similar to the work of industrial scientists. In just over a decade, Dr. Hudson has engaged in research spanning topics related to global issues in public health, climate change, and biosecurity.
---

Thursday, February 17, 7pm
Dr. Guillaume Long, Senior policy analyst at the Center for Economic and Policy Research (CEPR) in Washington DC. Former foreign minister of Ecuador
The International Implications of Latin America's New Shift to the Left
Recording: https://truman-edu.zoom.us/rec/share/C-NlmhIEVkcD1UAH_ZebyLG4dmzMrPPtsU-fMvFWvrg_FXSo8ht59OPoM5OsVfyr.v8F3GwGT8uSPxYRm
Recent electoral successes for the Latin American Left have weakened the Right's hold over the region. Upcoming electoral processes in 2022 look likely to consolidate this tendency, with many Latin America watchers now anticipating that Brazil's October presidential elections will be a game-changer for the regional balance of power. Is it realistic to talk of a new Pink Tide? What are the implications of this new political shift on the geopolitics of Latin America, on Latin American regionalism and integration, and on Latin America's relations with global powers, particularly China and the United States?
Guillaume Long is a senior policy analyst at the Center for Economic and Policy Research (CEPR) in Washington DC. Prior to joining CEPR, Long held several cabinet positions in the government of Ecuador, including Minister of Foreign Affairs, Minister of Culture, and Minister of Knowledge. More recently, Long served as Ecuador's permanent representative to the United Nations in Geneva. Long trained as a historian and holds a Ph.D. in The International Politics of Latin America from the University of London. He currently teaches International Relations and the comparative politics of Latin America at Johns Hopkins University and Sciences Po, Paris.
---
Thursday, January 20, 7pm, by ZOOM at https://zoom.us/my/global.issues
How The Peace Corps Experience Shapes Perspectives on Global Issues
Two Truman alumni who are also Returned Peace Corps Volunteers join us by Zoom to reflect on their Peace Corps experiences and how they have shaped their perspectives on global issues and policy development.
Jessica Vandivort de Montiel served as a Peace Corps Volunteer in Guatemala from 2008-2012 in the Youth Development sector. Jessica partnered with Education and Health Ministry officials to develop rural youth development programs, empowering youth to lead healthy lives and to commit to positive roles in their communities. She is currently a Peace Corps Recruiter.
Alex Senger served as a Community and Economic Development volunteer with Peace Corps Paraguay from 2013 to 2015.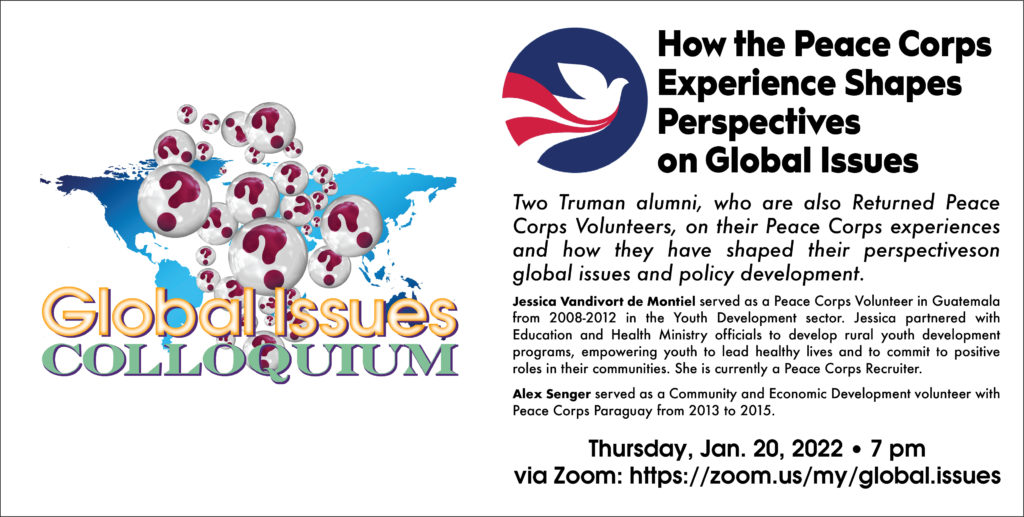 ---