Take a tour of some of the world's hottest issues! For more than a decade, Truman State University's Global Issues Colloquium has been helping the Truman community understand many of the most challenging questions, conflicted responses and hopeful developments facing various governments and societies.
Spring 2021 Global Issues Colloquium
Thursday, March 25, 7:30pm (NOTE DIFFERENT TIME), on Zoom: https://zoom.us/j/99924839868
Amy Cooper
Assistant Professor, Department of Sociology and Anthropology, Saint Louis University
What you should know about Venezuelan health care under Chávez: A Medical Anthropologist's Perspective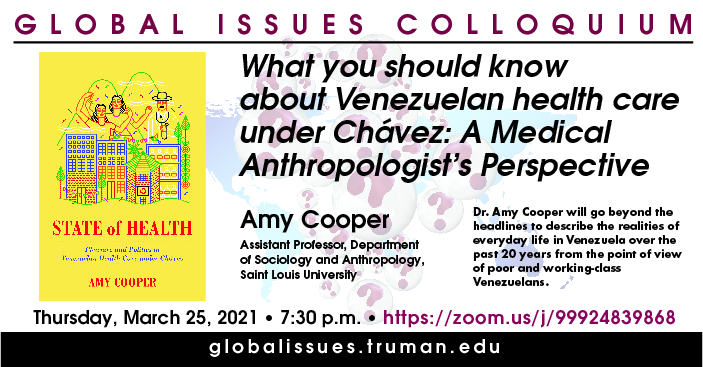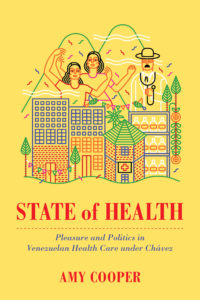 Dr. Amy Cooper goes beyond the headlines to describe the realities of everyday life in Venezuela over the past 20 years from the point of view of poor and working-class Venezuelans. Her research as a cultural and medical anthropologist focuses on one of the most important shifts in Venezuelan society under socialist leader Hugo Chávez: the transformation of its health care system. Though rarely mentioned in media reporting on Venezuela's leftist leadership, health care reform improved people's lives and reshaped the political landscape in the country in ways that are still being felt today. Cooper discusses her in-depth research with Cuban doctors, patients in public clinics, community health activists, and others in the years before the current crisis began. Her work adds nuance and depth to our understanding of Venezuela and offers lessons from one of the most ambitious experiments in universal health care in recent memory.
Amy Cooper is a cultural and medical anthropologist who studies the politics of health care in the Americas. Her book State of Health: Pleasure and Politics in Venezuelan Health Care under Chávez (University of California Press 2019), is based on ethnographic research conducted in Caracas between 2006-2009. Amy lives in St. Louis where she is an Assistant Professor of Anthropology at Saint Louis University.
---
RELATED LINKS: