Take a tour of some of the world's hottest issues! For more than a decade, Truman State University's Global Issues Colloquium has been helping the Truman community understand many of the most challenging questions, conflicted responses and hopeful developments facing various governments and societies.
Spring 2022 Global Issues Colloquium
Global Issues Colloquiums are streamed over zoom at https://zoom.us/my/global.issues
Thursday, January 20, 7pm, by ZOOM at https://zoom.us/my/global.issues
How The Peace Corps Experience Shapes Perspectives on Global Issues
Two Truman alumni who are also Returned Peace Corps Volunteers join us by Zoom to reflect on their Peace Corps experiences and how they have shaped their perspectives on global issues and policy development.
Jessica Vandivort de Montiel served as a Peace Corps Volunteer in Guatemala from 2008-2012 in the Youth Development sector. Jessica partnered with Education and Health Ministry officials to develop rural youth development programs, empowering youth to lead healthy lives and to commit to positive roles in their communities. She is currently a Peace Corps Recruiter.
Alex Senger served as a Community and Economic Development volunteer with Peace Corps Paraguay from 2013 to 2015.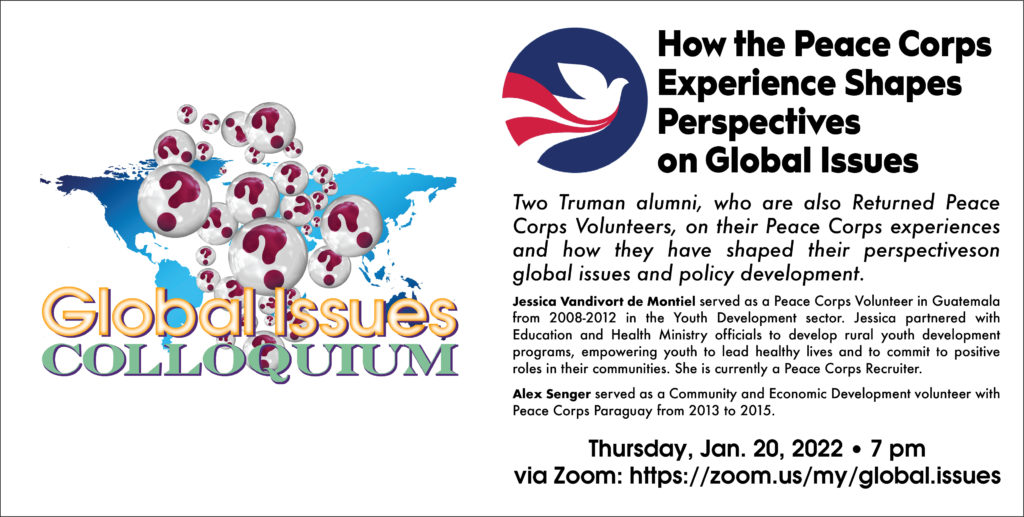 ---
Feb 17: TBA
March 17: Corey Hudson (Amber alum), genetic diseases (ebola, etc.)
April 21: Christine Harker? (Earth Week)
RELATED LINKS: