Take a tour of some of the world's hottest issues! For more than a decade, Truman State University's Global Issues Colloquium has been helping the Truman community understand many of the most challenging questions, conflicted responses and hopeful developments facing various governments and societies.

Spring 2022 Global Issues Colloquium
Global Issues Colloquiums are streamed over zoom at https://zoom.us/my/global.issues
---
Thursday, April 21, 7pm: Dr. Christine Harker, Professor of English
MG1000 & over zoom
Recording at: https://truman-edu.zoom.us/rec/share/LO0M78oI0TGLlcY5GAL9Mxs_pd-vN2jVQVI2ND1JdrKMwtGB8wdoM9Vki3PbohAj.XdH1UuGsFUfZSNfT?startTime=1650585851000
Grieving our Home: Climate Change, Loss, and Finding a Path to Action
Co-sponsored  with the Environmental Studies Minor and Interdisciplinary Studies as part of Earth Week.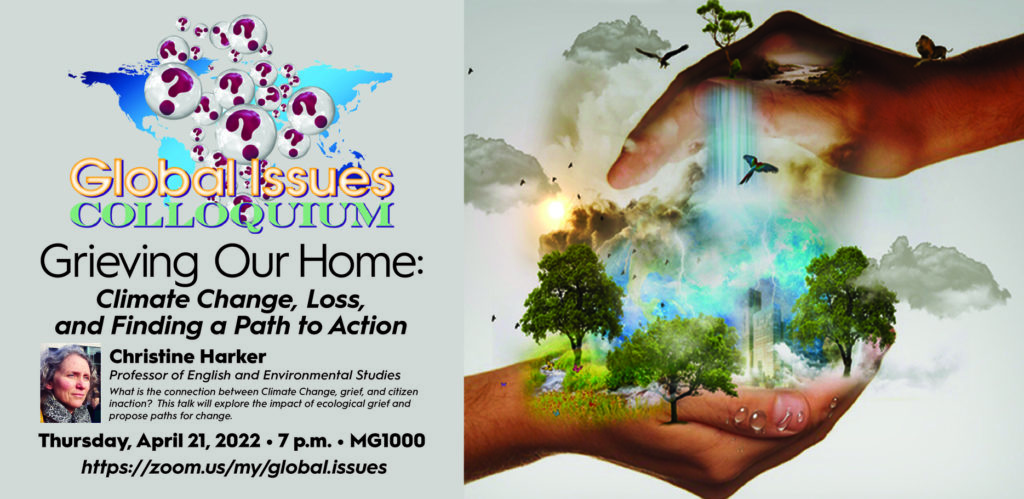 Dr. Christine Harker, Professor of English and Environmental Studies, longtime climate educator and activist, will discuss the existential threat that Climate Change poses the Earth's biosphere and address the mysterious lack of action among those best positioned to effect change. Grief and loss studies suggest a possible explanation may lie in our failure to acknowledge our collective sorrow; to bear shared witness to one another may serve as a means to galvanize collective agency and make the changes the Earth needs from us.
Reception to follow in MG1090
RELATED LINKS: