Global Issues Colloquiums
Take a tour of some of the world's hottest issues! For over a decade, Truman State University's Global Issues Colloquium has been helping the Truman community understand many of the most challenging questions, conflicted responses and hopeful developments facing various governments and societies.
Tuesday, October 11, 2016, 1:30 pm, SUB Georgian C
Co-Sponsor: Hispanic Heritage Month
Speaker: Martín Fernández, National Coordinator, Movement for Dignity and Justice (MADJ)
Title: The Fight against Corruption and Impunity in Honduras: Justice for Berta and Beyond
The 2009 military coup in Honduras cemented the Central American nation as a hotbed of human rights abuses, the new frontier in the US-led War on Drugs, and an all-out plunder of national territory and resources. Those who resist are targeted and killed with a level of impunity unheard of in the 21st century in Latin America; the March 2nd assassination of beloved Indigenous leader Berta Cáceres is an example of state crime and impunity amongst many. Those who head North are often sent back to the very violence and poverty from which they fled. The heart of the crisis is the US policies of militarization, the legitimization of a brutal Honduran State, and the promotion of crony capitalism. For the Honduran people, the results are violent and devastating, but their inspiring resistance continues.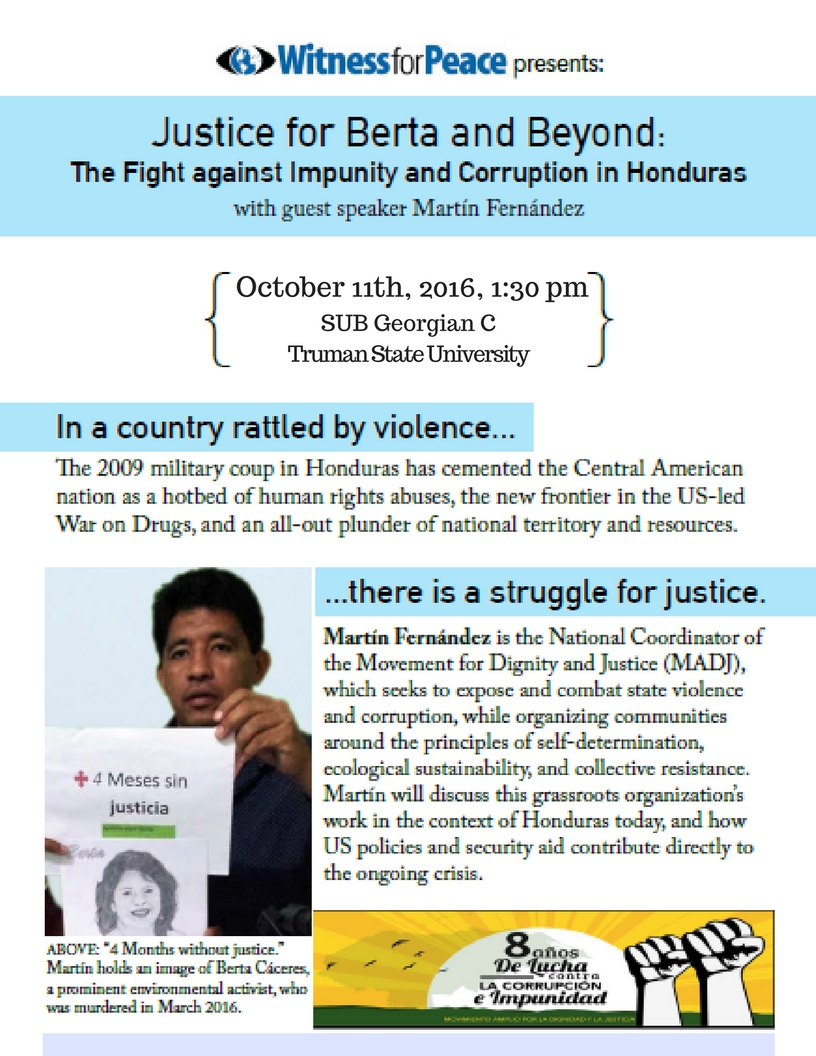 Visit our facebook page and follow us on twitter.