Global Issues Colloquiums
Take a tour of some of the world's hottest issues! For over a decade, Truman State University's Global Issues Colloquium has been helping the Truman community understand many of the most challenging questions, conflicted responses and hopeful developments facing various governments and societies.
Thursday, April 6, 2017, 7:00 pm
SUB Activities 3200
Speaker: Kelly Hayes, Associate Professor of Religious Studies, Indiana University
Title: Intergalactic Space-Time Travelers: Envisioning the New Age in Brazil's Valley of the Dawn
Co-Sponsors: PHRE, Society & Environment, SACS, Interfaith Center
Abstract: Founded in the 1960s, the Valley of the Dawn is a Brazilian religion known for its synthesis of elements drawn from Christianity, Spiritualism, Afro-Brazilian religions and various esoteric traditions. Its adherents believe that they are descendants of a race of extraterrestrials originally sent to earth to advance humanity's spiritual evolution in preparation for the Third Millennium. In this talk Kelly Hayes explores the Valley's imaginative reconstruction of the past and its utopian vision, contrasting it with Brasília, the great modernist capital in whose shadow the Valley was founded and whose construction promised to catapult Brazil into the future.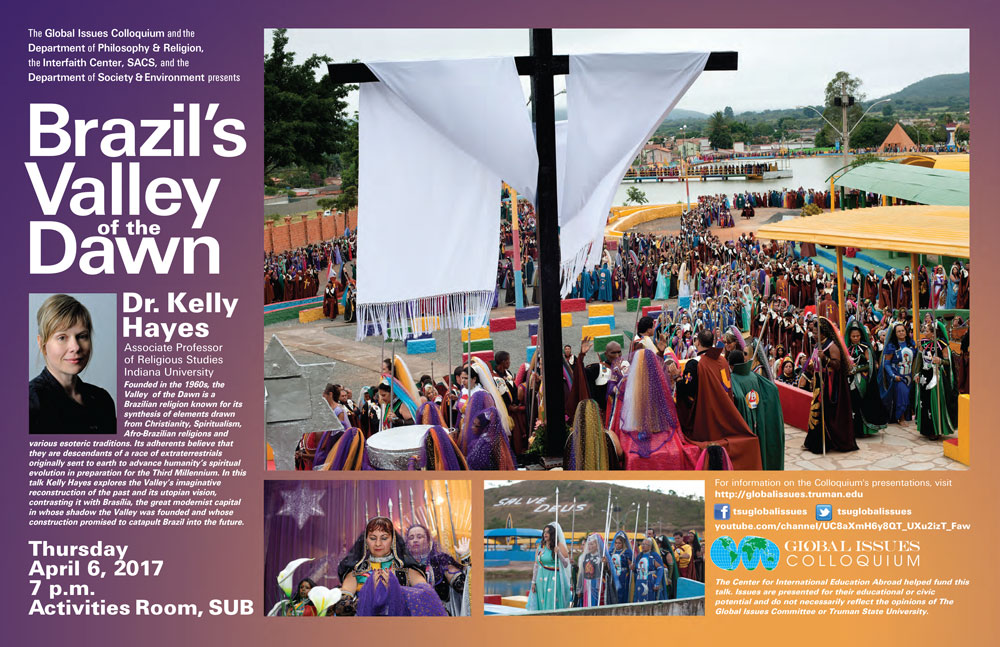 Visit our facebook page and follow us on twitter.