Global Issues Colloquiums
Take a tour of some of the world's hottest issues! For over a decade, Truman State University's Global Issues Colloquium has been helping the Truman community understand many of the most challenging questions, conflicted responses and hopeful developments facing various governments and societies.
Thursday, November 10, 2016, 7:00 pm, MG 2001
Speaker: Hemanta Kafley, Assistant Professor of Biology, Tarleton State University, and Brad Thornton, Biology and Environmental Studies, Truman State University
Title: Natural Treasures in Peril: Challenges and Successes in Conservation from the Himalayas
Co-Sponsor: Department of Biology
Abstract: Biodiversity conservation is in crisis. Globally, species are going extinct at a faster rate than ever before. This is even acute in many resource-poor countries where food security must be prioritized and financial resources for combating biodiversity loss is always in short supply. Despite this, Bhutan and Nepal, very small and resource-deprived countries, have been adopting various social and cultural measures along with the other active resource management strategies that have helped the countries to protect their natural treasures- range of forests types from tropical to high-Himalayan ecoregions, and incredible diversity of wildlife such as rhinos, elephants, red panda, tigers, and leopards. Addressing the issues and challenges these countries have been facing for preserving their natural resources, Dr. Hemanta Kafley will highlight some of the strategies these countries have employed emphasizing the people's indigenous knowledge, cultural norms, and social values for ensuring desired ecosystem services to the local people. Truman student Brad Thornton will draw upon personal experience from a semester in Bhutan to share challenges and successes from this mountain kingdom.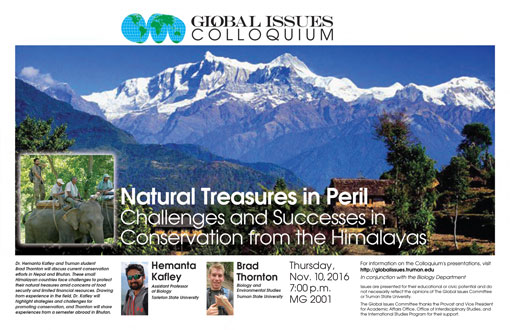 Visit our facebook page and follow us on twitter.